Our collection of vintage pearl rings is expansive, making it easy to find the perfect gift for a loved one or a special treat for yourself. These antique and vintage pearl rings are highly coveted because natural pearls are now a rarity. Our selection includes a wide range of these timeless and elegant rings.
Showing
1 - 2 of 2 results
460

CAD

230

CAD

Save:

230

CAD

(50%)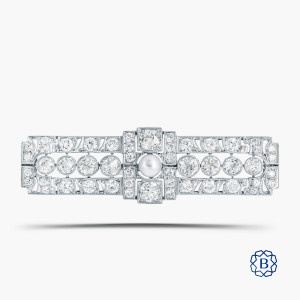 10,200

CAD

7,140

CAD

Save:

3,060

CAD

(30%)
Showing
1 - 2 of 2 results
Symbolic of purity, integrity, and wisdom, pearl rings are gaining momentum, accelerated by their choice as wedding jewellery from celebrities and megastars such as Jennifer Lopez, Emma Stone, and Michelle Williams. Vintage pearl rings make their wearer stand out, highlighting their elegance and refinement.
Pearls have been treasured for centuries, and come in many colours and shapes. Most vintage pearl rings feature perfectly round gems of the best quality, often complemented by diamonds, gemstones, and intricate settings resulting in unique and stunning designs.
Things to Know Before Buying Pearl Ring
Whether seawater or freshwater, natural or cultivated, pearls are real organic gems made by oysters. Defying the superstition that pearls symbolize tears, oysters produce the best pearls only when they are healthy and happy and live in a sound environment.
Although not the most durable of gems, pearls can last for over a hundred years when given proper care. Since pearls are organic gems, they are the most fragile and sensitive to heat, scratches, sprays, and fragrances. Vintage pearl rings are not for everyday wear, but gorgeous and unique, needing gentle care and love to keep their lustre and glow.
Brilliant Collection of Antique Pearl Rings
At Barry's Jewellers, we have crafted a brilliant assortment of vintage pearl rings for every taste and occasion. Whether you are looking for white, rose, or dark pearls in gold or platinum settings, you can find these and more in our catalogue. Shop with us online, or come and check out our store for a unique collection of vintage pearl rings to choose the one you will want to cherish for a lifetime.